Herbal Materia Medica II Online
Herb 303 continues the study of herbal Materia Medica, studying each botanical in depth, including its therapeutic actions, active constituents, methods of administration, cautions and contraindications, and current research. Botanicals include a selection from the following therapeutic groups: Diaphoretic, emmenagogue, expectorant, nervine, antispasmodic, tonic, stimulant, antiseptic, and hepatic herbs.
At the successful completion of this course, students will be able to:
Identify the major active constituents and their therapeutic actions of the herbs studied: Diaphoretics, emmenagogues, expectorants, nervines, antispasmodics, tonics, stimulants, antiseptics, and hepatics.
Describe appropriate cautions and contraindications for the herbs studied, including potential herb/drug interactions.
Describe historical uses of the herbs studied.
Find and discuss current research on therapeutic uses of the herbs studied.
Ascertain the appropriate dosage for each of the preparation of the herbs studied.
Describe and prepare appropriate preparations for each of the herbs studied.
Maximum Enrollment: 30 students
Required Materials (Course Pack)
The Required Materials (or Course Pack) cost—including standard shipping within the United States—is $396.22. This includes:

ACHS eTextbook: 

Petersen, D. (2015).

HERB 303: Herbal Materia Medica II.
Portland, OR: American College of Healthcare Sciences. - $100
(Optional: Printed copy available for an additional $79)
Online Materials and Library Resources (OMLR) - $99
HERB 303 Herb Kit - $157.89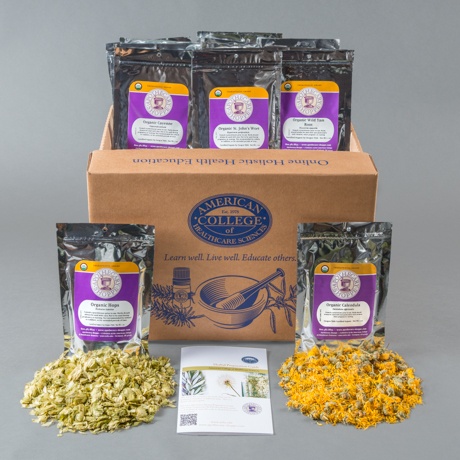 The Required Publisher Textbook*:
Total Course Price: $975 (3 credits x $325 per credit) + $396.22 Course Pack = $1371.22
Does not include Registration Fee, which is  $200 per program or $30 per credit if enrolling in single courses.
* You may always elect to buy or rent your textbooks/ebooks new or used. However, when choosing to purchase college textbooks and supplementary materials outside the College store, please use caution to ensure you purchase the correct version of required materials.
Tuition Includes:
Expert faculty with real-world clinical experience in each course
All instruction and evaluation, including weekly interaction with your instructor through the online classroom, live teleconferences and/or chats, email, and the Instructor's Virtual Office
Dynamic online lectures updated regularly to include the latest evidence-based research and industry updates
Bonus: Access to the ACHS Wellness Guide Online.
Optional Recommended Reading & Study Kits:
Click here
to view the Recommended Study Kit for this course.
Click here
 to view the Recommended Reading for this course.
Last updated 06/10/16