In Part 1 of our fibromyalgia series, I talked about my journey to a diagnosis of fibromyalgia and joint hypermobility through a maze of conventional medicine. After arriving at a conclusion, many questions remained unanswered. Why didn't my physicians ask me about my diet? Why didn't my physical therapists suggest yoga? Is meditation effective for managing stress? What simple, proven lieftyle changes might minimize the stress hormone response that floods my system with cortisol and aggravates pain? Do herbs really work? What supplements are safe? These questions swirled in my head.
My journey into alternative medicine
I started to take a proactive, rather than reactive approach to health. Regular massages, visits to natural hot springs, and Epsom salt soaks began to ease my stiffness and pain. I dove deeper into learning alternative means of treatment, nutritional protocols, and looking at the scientific and biological basis behind claims.
Pubmed became my go-to resource for gathering information and learning about recent research findings. I quickly observed that many health blogs will only present a point of view in line with their interests, so wanted to be able to access unbiased studies and draw my own conclusions.
The endocannabinoid system: A startling discovery
In 2008, medical cannabis research started getting more coverage in scientific journals, and I began learning all I could about the endocannabinoid system. I was stunned to learn that the body creates its own cannabinoids inside the body, (almost identical to the plant molecules from the marjijuana plant, such as THC), as well as cannabinoid receptors which have no purpose whatsoever but to connect with cannabinoids: endogenic (made inside the body) and exogenic (made outside the body, such as THC or CBD from the cannabis plant). I learned that some researchers believe that fibromyalgia is an endocannabinoid deficiency syndrome— in which the body does not make enough of these chemicals internally so when they are supplied naturally, many patients find relief.
I hadn't ingested cannabis in over a decade, but once armed with the knowledge of promising research, I started to wonder if it might hold the key to managing my condition. I resided in a place where its medical use was legal, so I thought, what do I have to lose? I began using medical protocols to safely ingest the herb, under the care of my doctor, and do you know what happened?
I began to sleep deeply and wake up refreshed. My symptoms subsided and I was able to live and work without pain and constant fatigue. I kept this treatment up for nearly a decade, but eventually I started noticing that I was becoming tired and spaced out if I used it during the day. I was soon able to stop taking the synthetic opiates prescribed by my doctor which had really unpleasant and disruptive side effects.
I began looking to other natural protocols and ways of managing my condition. I learned more about CBD, the non-psychoactive cannabinoid, and learned that CBD can be sourced from plants other than cannabis. Please note that at this time, purchasing CBD is federally legal as long as it doesn't contain more than 0.3 percent THC, but some state laws have put restrictions on buyers, so please do your due diligence and research the legalities of this, and also consult your physician if you are considering trying CBD or any other cannabinoid treatment.
A naturopathic overview
While medicinal cannabis an effective treatment for me, I didn't want to be dependent upon it and also didn't want to go rogue and self treat my condition entirely from internet research, so I scheduled an appointment with a naturopath. I had them perform a full blood and hormone panel, testing for any imbalance that might affect me.
I had read that women in their mid-thirties may start to experience hormonal fluctuations in the 10-15 year period leading up to menopause, (called peri-menopause), so I was particularly interested in having my hormone levels checked. My lab results confirmed that I was remarkably balanced and healthy. In fact, I had no measurable imbalances at all, and everything from cholesterol to blood pressure to kidney function was in good order. This was great news, and it really just confirmed that the self-care techniques I had adopted were effective and beneficial for me.
In the next part of this series I will share the various modalities and techniques I have found useful in my journey from 'exhausted to exuberant'. Cannabinoids were a temporary step on my path, and now I've found other natural and holistic treatments that support my health, so no longer use it. I am neither advocating for it nor deterring its usefulness, but telling my story as an example of how it inspired me to learn about herbs and natural treatments.
Empowering yourself with knowledge
After posting the first part of the series, A Holistic Approach to Fibromyalgia | Part 1, I have heard from many of you who have gone through a similar journey. We all have the same questions. At ACHS we are committed to supporting your educational journey, whether that is for personal wellness or career growth.
I was introduced to Dorene Petersen, president and founder of ACHS, by attending my mom's graduation from the American College of Healthcare Sciences. She is a registered nurse who earned her Master's degree in Complementary and Alternative Medicine, and funded it through employer tuition assistance. Her own struggle with fibromyalgia and the desire to find healthy natural treatments for the condition is what sparked her educational path into herbal medicine, nutrition and aromatherapy. She now is developing her private holistic healing practice at hypnosisbyheart.com. She shared her story with us, which I will post below:
Marian's story
"I became interested in complementary medicine when I was struggling with fibromyalgia. I used various complementary treatment modalities including acupuncture, energy medicine and guided imagery and found that I had less anxiety, more energy and less pain. I received training in these areas because I wanted to bring this experience to others to help them on their "healing journey".

As I learned more about complementary medicine, I realized that I wanted to find an accredited college that offered courses, and preferably a post graduate degree, in Complementary Alternative Medicine (CAM). I searched extensively on the internet, and the only fully online, accredited college I could find offering this type of course work was the American College of Healthcare Sciences. As I reviewed their course descriptions and requirements for a post graduate degree, I became impressed with the breadth of the content of the courses. As a nurse, I know the importance of evidence-based medicine, and that is the approach that is supported to complete their degrees.

I have an Associate's degree in nursing and a Bachelor of Science in Human Relations and Business, so I decided I was ready to pursue a Master's degree in Complementary Alternative Medicine.

The company I work for, Humana, has a wonderful tuition reimbursement policy. My company will only provide tuition reimbursement for college or university classes taught at a school that is accredited by the US Department of Education (or regional accrediting bodies). ACHS met that criteria. The rest is history! I worked on my MS in CAM for six years, while working full time. I completed my degree in August of 2018. Humana paid for all of my tuition and fees.

As I became immersed in my degree program, I was very impressed by the caliber and knowledge of the instructors, as well as the content of the courses. The work was not easy, but it was interesting and achievable. I am very blessed to have found ACHS, and to have the tuition reimbursement benefit from my employer. I encourage anyone reading this who has a tuition reimbursement benefit to consider pursuing a degree program. This is a very rich benefit! Please don't let it go to waste!"
Marian Culpepper, RN, MS CAM, BS, ADN, CHt
Do you have an experience with pain and fatigue? What helped you? Have you used essential oils, nutrition, or herbs to your benefit? Leave a comment below!
References:
https://www.ncbi.nlm.nih.gov/pmc/articles/PMC5576607/
https://www.ncbi.nlm.nih.gov/pubmed/
https://www.wweek.com/potlander/2018/07/11/gron-cbd-cafe-brings-the-cannabis-conversation-out-of-the-dispensary/
Disclosure of Material Connection: I am the Art Director of the American College of Healthcare Sciences, the Institution that publishes this blog. However, all opinions are my own. This blog may contain affiliate links. I am disclosing this in accordance with the Federal Trade Commission's 16 CFR, Part 255: "Guides Concerning the Use of Endorsements and Testimonials in Advertising."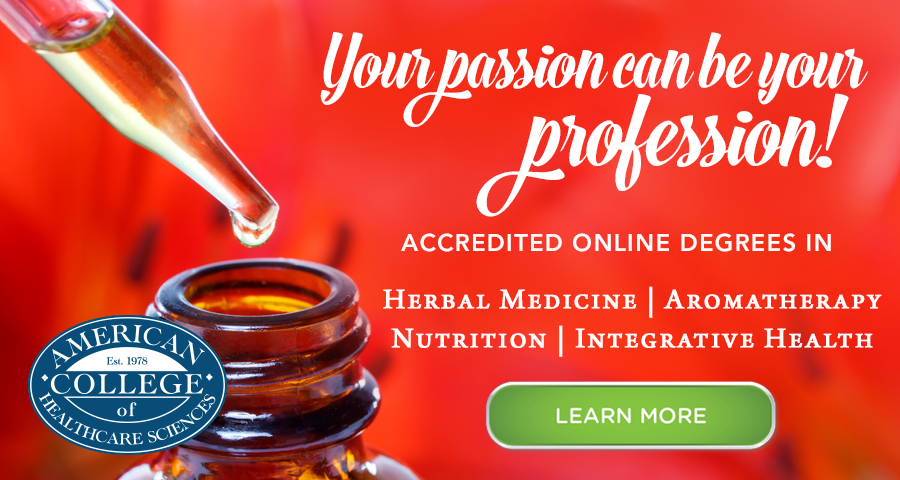 About American College of Healthcare Sciences
Founded in 1978, ACHS.edu is a Portland, Ore.-based, accredited college offering online, on-campus, and study abroad integrative health education. With undergraduate and graduate degrees, diplomas, certificates, and continuing education units in integrative health, ACHS makes holistic health and wellness education accessible to a diverse community, including healthcare professionals, military students, stay-at-home parents, and lifelong learners. Specializations include aromatherapy, herbal medicine, holistic nutrition, wellness coaching, and integrative health modalities. ACHS is a Certified B Corporation® and was named three of 100 Best Green Workplaces in Oregon 2019 by Oregon Business magazine. ACHS is also accredited by the Distance Education Accrediting Commission (DEAC), which is recognized by the U.S. Department of Education and by the Council for Higher Education Accreditation (CHEA). In response to our commitment to service members, veterans and military spouses, ACHS has been designated as one of the top 15% of military-friendly institutions in the U.S. for nine years in a row. For more information visit achs.edu.